Read a special COVID-19 update from President and CEO Tim McGrath.
ViewSonic Android AIO Kiosk Cortex-A17 QC RK3288 1.8GHz 2GB 16GB Flash bgn BT GbE 23.6" FHD MT Android 5.1
32247104

VSD242-BKA-US0

Temporarily Out-of-Stock

Call for next available delivery
Recommended Bundle:

ViewSonic

Getting Details
APC Power-Saving Back-UPS Pro 700VA 420W 120V 5-15P Input, (6) 5-15R Outlets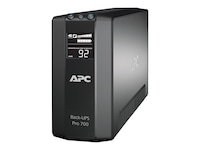 10536301

BR700G

In Stock

Ships in 24 Hours
Provides 420watt(s) power
Surge Suppression is Standard
Connector(s): Power NEMA 5-15 (F), Power NEMA 5-15 (M)
6 Outlets
4.00 minute(s) Battery Runtime at Full Load
Attributes include Line interactive, Coaxial line protection, RJ-45 line protection
The Back-UPS RS offers high performance protection for your business and office computer systems. It provides abundant battery backup power, allowing you to work through medium and extended length power outages. It also safeguards your equipment from damaging surges and spikes that travel along utility, phone and network lines. A distinguishing feature of the Back-UPS RS is automatic voltage regulation (AVR). AVR instantly adjusts both low and high voltages to safe levels, so you can work indefinitely during brownouts and overvoltage situations, saving the battery for power outages when you need it most. To conserve electricity, you can configure the Back-UPS to recognize a Master device, such as a desktop computer or an A/V receiver, and controlled peripheral devices, such as a printer, speakers, or a scanner. When the Master device goes into Sleep or Standby mode, or turns OFF, the Controlled devices will shut down as well, saving electricity. Shutdown software automatically powers down your computer system in the event of an extended power outage. Additional features like audible alarms, LED status indicators, user replaceable battery, push-button circuit breakers and plentiful outlets (including transformer-block spaced outlets) make the Back-UPS RS the perfect unit to protect your business' productivity from the constant threat of power problems and lost data.
This website stores cookies on your computer. These cookies are used to collect information about how you interact with our website and allow us to remember you. We use this information in order to improve and customize your browsing experience and for analytics and metrics about our visitors both on this website and other media. To find out more about the cookies we use, see our Privacy Policy.
Batch Add Products by Item #