37831801

J8A04A#201

Limited Quantity Available

Call for next available delivery
Getting Details
Should this product arrive in a condition other than described, or if it does not function within the first 30 days from the date of receipt, you must contact our Customer Care Center at 1-888-213-0259. If we are unable to resolve the issue with your Scratch & Dent product, we will issue a Return Merchandise Authorization (RMA) and refund your purchase price after the item is received in our warehouse and it is inspected to verify that the product is in the same condition as it was in when it shipped out. If the product is returned incomplete, a Restocking Fee may apply.
1200dpi x 1200dpi (B&W)
1200dpi x 1200dpi (color)
60ppm (B&W)
60ppm (color)
650sheet(s) Capacity
Legal (8.5 in x 14 in)
USB Type A, USB Type B, RJ-45
1.000GB Installed RAM
2GB Maximum RAM
30 Days Warranty
This is a Scratch & Dent product that has been fully inspected. This unit is missing the toner cartridges, there is a slight bow in the door, and there are abrasions on the menu screen. Page count is 9. This item is available in limited quantities while supplies last.
To see all Scratch & Dent products and other deals, visit our
Clearance Center
!
This is the TAA Compliant version.
The HP Color LaserJet Enterprise M653dn Printer with automatic duplex and high speed network capabilities allows you to speed through tasks and save paper. It can print two-sided documents at up to 60 images per minute with a first page out in as quickly as 5.7 seconds. This printer uses exceptionally low amounts of energy thanks to its innovative design and toner technology.
The HP Color LaserJet Enterprise M653dn comes with Jet Intelligence. JetIntelligence combines exceptional performance and energy efficiency with professional-quality documents right when you need them all while protecting your network with the industry's deepest security. With HP Sure Start, it regularly checks its operating code and repairs itself from attempted hacks. It also helps prevent potential attacks and takes immediate action with instant notification of security issues. You can centralize control of your printing environment with HP Web Jetadmin and help build business efficiency.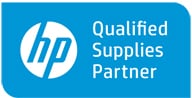 Standard Print Languages: HP PCL 6; HP PCL 5c; HP postscript level 3 emulation, native PDF printing (v 1.7), URF (AirPrint)

Mobile Printing Capability: HP ePrint; Apple AirPrint; Mopria-certified

Media Types Supported: Paper (plain, light, bond, recycled, mid-weight, heavy, mid-weight glossy, heavy glossy, extra heavy, extra heavy glossy, cardstock, card glossy), colour transparency, labels, letterhead, envelope, preprinted, prepunched, coloured, rough, opaque film, user-defined

Connector:

RJ-45, USB Type A, USB Type B

Connector Type:

Ethernet, USB 2.0

Printer, power cord, software, and documentation (missing toner).

ENERGY STAR Qualified:

Yes

Duplex Printout:

Standard

Language Simulation:

PCL 5C, PCL 6, PDF 1.7, PostScript 3

PostScript Support:

Standard

Printer Type:

Workgroup Printer

Refurbished Type:

Scratch & Dent

Media Capacity (max):

3200 sheet(s)

Media Capacity (Standard):

650 sheet(s)

Standard Media Size (max):

Legal (8.5 in x 14 in)

Supported Media Type:

Bond paper, Card stock, envelope(s), Extra heavy-weight paper, Glossy paper, label(s), Light-weight paper, Middle thick paper, Opaque film, Paper, Plain paper, Post card, Preprinted paper, Recycled paper, Soft gloss paper, Transparencies

RAM (installed):

1.000 GB

Memory Standard: 1 GB; Maximum: 2 GB

B&W H-Resolution (max):

1200 dpi

B&W Print Speed (max):

60 ppm

B&W Resolution (max):

1200 x 1200 dpi

B&W V-Resolution (max):

1200 dpi

Color H-Resolution (max):

1200 dpi

Color Print Speed (max):

60 ppm

Color V-Resolution (max):

1200 dpi

Duty Cycle (Pgs./mo.):

100000 page(s)

USB 2.0 Type B port
(2) USB 2.0 Type A ports
RJ-45 Gigabit/Fast Ethernet 10/100/1000 Base-TX network port
Hardware Integration Pocket

Power Supply Type: Built in 115V
Power Requirements
Input voltage: 100V to 127V nominal (+/-10%), 50 - 60Hz nominal
(+/-3Hz), 12 A
Power Consumption: 780 watts (printing), 31 watts (ready), 0.7 watts (sleep), 0.7 watts (Auto Off/Manual On), 0.1 (Manual Off)

This product is subject to our return policy. Please see our complete return policy for details.Should this product arrive in a condition other than described, or if it does not function within the first 30 days from the date of receipt, you must contact our Customer Care Center at 1-888-213-0259. If we are unable to resolve the issue with your Scratch & Dent product, we will issue a Return Merchandise Authorization (RMA) and refund your purchase price after the item is received in our warehouse and it is inspected to verify that the product is in the same condition as it was in when it shipped out. If the product is returned incomplete, a Restocking Fee may apply.

Compliant Standards:

EPEAT Gold, TAA

Android, Linux Boss (5.0), Linux Debian (7.0, 7.1, 7.2, 7.3, 7.4, 7.5, 7.6, 7.7, 7.8, 7.9, 8.0, 8.1, 8.2, 8.3, 8.4, 8.5, 8.6), Linux Fedora (22, 23, 24), Linux Mint (17, 17.1, 17.2, 17.3, 18), Linux Red Hat Enterprise (6.0, 7.0), Linux SUSE (13.2, 42.1), Linux Ubuntu (12.04, 14.04, 15.10, 16.04, 16.10), OS macOS 10.12 Sierra, OS X 10.10 Yosemite, OS X 10.11 El Capitan, UNIX, Windows 10 all 32- & 64-bit editions (excluding RT OS for Tablets), Windows 7 all 32- & 64-bit editions, Windows 8/8.1 all 32- & 64-bit editions (excluding RT OS for Tablets), Windows Vista all 32bit editions (Home Basic, Premium, Professional, etc.), Windows XP SP3 32-bit editions (XP Home, XP Pro, etc.) Citrix MetaFrame Presentation Server 3.0, Citrix MetaFrame XP Presentation Server (Feature Release 1, 2, and 3), Citrix on Windows Server 2003/2003R2, Citrix on Windows Server 2008/2008R2/2008 R2 SP1, Citrix on Windows Server 2012/2012R2, Citrix Presentation Server 4.0/4.5, Citrix XenApp 5.0 (Plus Feature Pack 2 & 3) for Windows Server 2008 Terminal Services 32- and 64-bit, Citrix XenApp 6.0/6.5 [for Windows Server 2008 R2 Terminal Services, 32- and 64-bit], Citrix XenApp 6.0/6.5/7.5 [for Windows Server 2008 R2 SP1 Terminal Services, 32- and 64-bit], Citrix XenApp 7.5 [for Windows Server 2012 and 2012 R2 Terminal Services, 64-bit], Citrix XenDesktop 5.6 [for Windows Server 2008 R2 Terminal Services, 32- and 64-bit], Citrix XenDesktop 5.6/7.0/7.5 [for Windows Server 2008 R2 SP1 Terminal Services, 32- and 64-bit], Citrix XenDesktop 7.0/7.5 [for Windows Server 2012 and 2012 R2 Terminal Services, 64-bit], Novell NetWare 6.5/SP8 Novell Clients www.novell.com/iprint, Novell iPrint Appliance v1.0, Novell Open Enterprise Server 11/SP1, Novell Open Enterprise Server 2 for Linux, Novell Servers www.novell.com/iprint), Windows Server 2003/2003 R2 32-/64-bit (SP1/SP2) Standard/Enterprise/Datacenter (+ Cluster & Terminal Services), Windows Server 2003/2003 R2 32-bit (SP1/SP2) Standard/Enterprise (+ Cluster & Terminal Services), Windows Server 2008 32-/64-bit (SP2) Standard/Enterprise (+ Cluster & Terminal Services), Windows Server 2008 R2 64-bit (SP1) Standard/Enterprise (+ Cluster & Terminal Services), Windows Server 2008/2008 R2 32-/64-bit (SP1/SP2) Standard/Enterprise/Datacenter (+ Cluster & Terminal Services), Windows Server 2012/2012 R2 64-bit Standard/Foundation/Essentials/Datacenter (+ Cluster & Terminal Services)
PC: 2GB available hard disk space,
Mac: 1.3 GB available hard drive space; Internet

OS Required:

Android, Apple macOS 10.12 Sierra or later, Apple MacOS X 10.10, Apple MacOS X 10.11, BOSS GNU/Linux 5.0, Citrix MetaFrame Presentation Server 3.0, Citrix MetaFrame XP Presentation Server, Citrix XenApp 5 (32/64 bits), Citrix XenApp 6, Citrix XenApp 6.0 64-bit, Citrix XenApp 6.5, Citrix XenApp 6.5 64-bit, Citrix XenApp 7.5, Citrix XenDesktop 5.6, Citrix XenDesktop 7, Citrix XenDesktop 7.5, Debian Linux 7.x, Debian Linux 8.x, Linux Fedora, Linux Mint 17, Linux Mint 17.1, Linux Mint 17.2, Linux M
This website stores cookies on your computer. These cookies are used to collect information about how you interact with our website and allow us to remember you. We use this information in order to improve and customize your browsing experience and for analytics and metrics about our visitors both on this website and other media. To find out more about the cookies we use, see our Privacy Policy.
Batch Add Products by Item #