18925271

FG1906-15

Temporarily Out-of-Stock

Call for next available delivery
Recommended Bundle:

AMX

Getting Details
This All-In-One Presentation Switcher is a unified audio, video, and control device that eliminates the need for numerous individual components as well as the integration and reliability challenges that accompany them. The compact 3U Presentation Switcher integrates a variety of different functionality, such as a scaler, analog to digital signal converter, twisted pair transmitter and amplifier with built-in professional grade audio processing into a single chassis. It is a simple to install, flexible solution, perfectly suited for large and complex conference rooms, classrooms and auditoriums.
RAM (installed):

1.000 MB

This product is subject to our return policy. Please see our complete return policy for details.
Tripp Lite Self-Contained Portable Air Conditioning Unit, 1250W, 120V, 60Hz, 12K BTU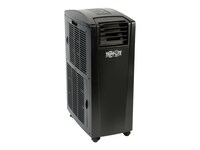 10907491

SRCOOL12K

In Stock

Ships Monday
Got a hot spot? Fix it and forget about it with the SRCOOL12K portable AC unit. It automatically evaporates condensation and safely removes it through the exhaust, so you won't have to install a drain or constantly empty a water tank. The SRCOOL12K's portable, no-maintenance design makes it the perfect choice for cooling network wiring closets, server rooms or anywhere with a hot spot. With 12,000BTU of cooling power, the SRCOOL12K is ideal for use in data centers, server and wiring closets, IT environments, home and small business offices, conference rooms, warehouses, entertainment centers or other venues with heat-sensitive equipment, particularly in areas that facility air conditioning can't reach. The SRCOOL12K not only adjusts ambient room temperatures, but can also dehumidify and filter the air, providing better air quality for enhanced equipment performance with minimal noise and power consumption. The SRCOOL12K has a built-in evaporator that expels the condensed water through the exhaust duct, so there is no need for a drain tube, drain pan or water collection tank. Both a standard louvered vent (for general room cooling) and a directional ducted cooling vent (to direct cold air where most needed) are provided. A directional exhaust duct safely removes hot air from the room. SRCOOL12K comes equipped with an auto-restart feature that retains all system settings and returns the unit back to its last operational state after AC power is restored. A built-in timer enables the unit to be programmed for unattended start-up and shutdown. Controls and displays are conveniently mounted on the top panel. With the optional added accessory of the SRCOOLNET this communication port allows users to monitor temperatures, receive alerts, review logs and control settings from any location. Designed for quick and simple installation, the SRCOOL12K rolls into place on built-in casters and plugs into a standard 5-15R outlet with no adapter required. An included window/drop ceiling kit provides multiple installation options. The SRCOOL12K uses environmentally friendly R410a refrigerant, which complies with EPA standards for 2010 and beyond, and is accepted worldwide. It contains zero, ozone depleting R22 refrigerant that has been banned by the EPA for new equipment manufactured after January 1, 2010.
Batch Add Products by Item #